Flight 5: Goose Bay, Labrador, Canada (CYYR) to Quebec City, Quebec, Canada (CYQB)
The first of our two flights on Day 3, westward across Canada to Quebec City — 584 nm and 3 hours 54 minutes — began with beautifully clear weather at Goose Bay. Since we no longer needed an HF radio, prior to departure Fritz disconnected the unit and many of the wires he had installed underneath the right side instrument panel: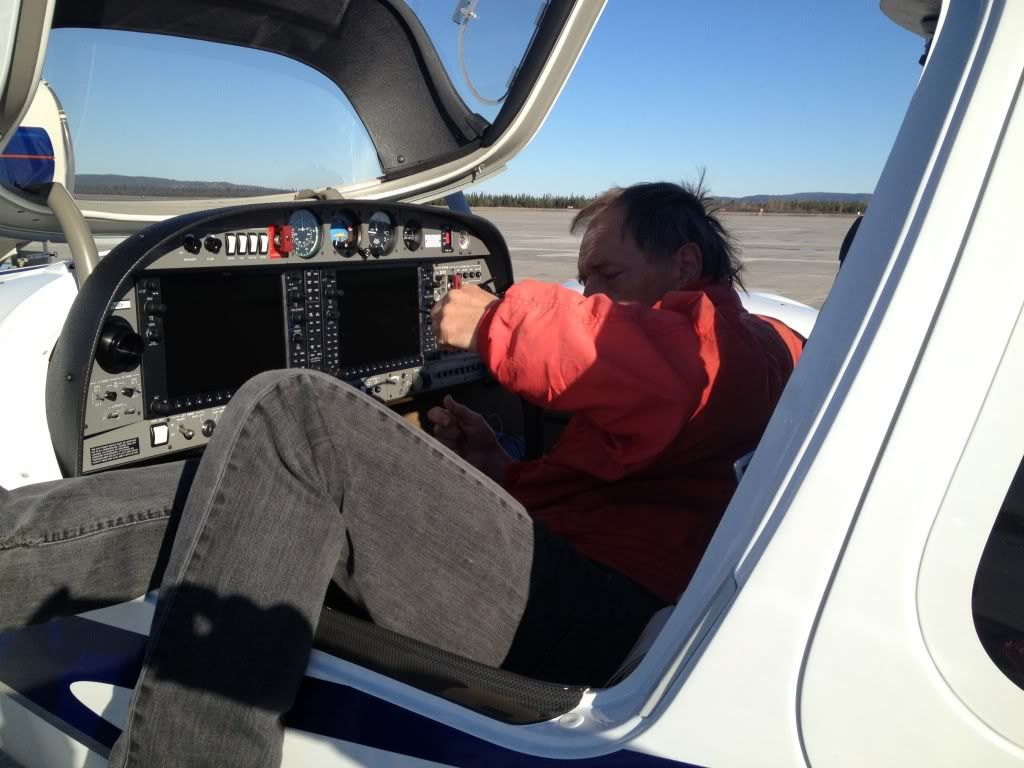 Because a frontal system had passed through and cleared everything out the day before, we were concerned that we'd again experience 50 knot headwinds from the west at altitude. I was able to convince Fritz that we should flight plan for a lower altitude to reduce our headwind exposure, so we settled on 8000 feet. His experience in Austria is to usually fly trips around 14,000 feet to go faster and avoid a bit of "cumulogranite" called the Alps 
— so he rarely flies that low.
Here's our takeoff from Goose Bay:

If you listen carefully right before we took the runway, an airliner was complaining to ground control that another turboprop aircraft was "blowing my passengers away" on the ramp — and requested ground control to "please make them stop."
We crossed many miles of wilderness with no visible signs of civilization; scrubby pine trees and rolling rocky countryside with the occasional bigger lake or river:

Some of the rivers had significant rapids and waterfalls easily visible from 8000 feet. Eventually the headwinds abated and we were able to request a climb to 12,000 feet.
Later we crossed the St. Lawrence River (or maybe the Gulf of St. Lawrence since it was so wide at that point) to its southern shore. There were broken clouds above land on both the northern and southern shores, but over the water it was perfectly clear due to the cold water temperatures limiting convection above: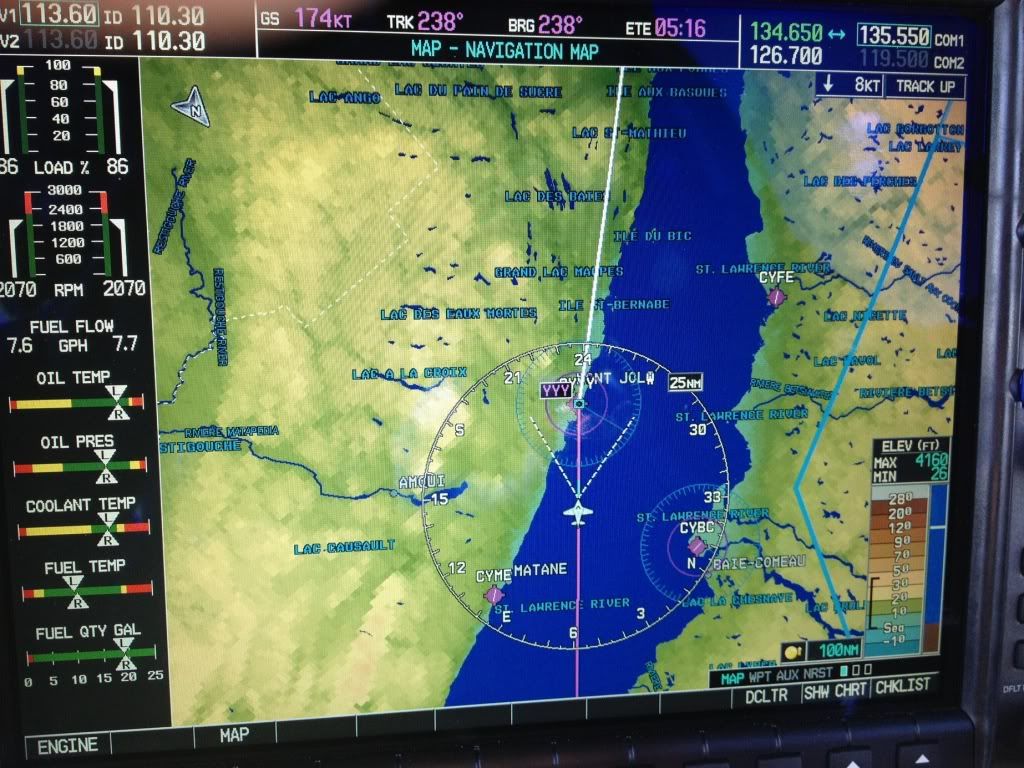 Here's our approach and landing at Quebec City, Quebec:

Listen to the mix of French and English in use by the air traffic controllers and pilots as we're being vectored all over the place before lining up for the approach. (I could only understand the French-speaking pilots when they said "Roger.") ATC had to keep track of each aircraft's preferred language when making a radio call. Such a mix of native language use with English may be normal in Europe, but was strange to hear in North America.
Approach was complicated by the Quebec tower vectoring (in unrecognizable French) a Canadair CL215 or 415 firefighting water bomber right in front of us (although very difficult to see in the video), forcing us to slow down. After it landed the water bomber coasted all the way to the runway end, and was back-taxiing on the runway directly towards us as we were on final approach. 
In pointing us out to other aircraft, the tower erroneously referred to us as a "Diamond Star" (i.e., a single-engine DA40) rather than as a "Diamond TwinStar" DA42. Of course as a previous DA40 owner this sounded perfectly normal to me.
Here's the aircraft parked on the ramp at the FBO in Quebec City — at this point we're back to civilization, although many people were speaking French there: 
One thing I noticed as I walked around the aircraft was soot stains at both engine exhaust pipes. I had not noticed this before at other fuel stops, but we operated the aircraft differently on this flight to Quebec City. Since we had plenty of fuel to easily make a 584 nm flight, we tried increasing the throttle to 86% and then 92% power to see how fast the DA42-VI would fly at 12,000 feet (answer: 182 and 186 knots). So my assumption is that operating at higher power levels produces more soot from the Austro engine exhaust:

Flight 6: Quebec City, Quebec, Canada (CYQB) to London, Ontario, Canada (CYXU)
DA42 G1000 logfile: http://www.diamondaviators.net/reports/flights/3930
The second of our two flights on Day 3, westward across Canada to the Diamond Aircraft factory in London, Ontario — 495 nm and 3 hours 5 minutes — was a typically-normal IFR flight except for the taxi to Diamond in London (for which you'll have to watch the video further down the page).
We filed for 12,000 feet to again avoid potentially worse headwinds at higher altitudes and avoid having to wear a "rubber hose up your nose" cannula for O2, and because we weren't in as much of a rush to complete a relatively-brief 3-hour flight. And to think before these ferry flights I used to regard 3 hours of flying in a Diamond as a long time!
Here's the takeoff out of Quebec City; Fritz is in the left seat for the first time, since he wanted to show me some maneuvers near London if the weather permitted canceling IFR and operating VFR (unfortunately the later weather didn't cooperate):

Right after shooting the takeoff video we were referred to by ATC as a "Katana" (You fly a sophisticated DA40 or DA42 twin and you still get no respect from controllers who think that any "Diamond = Katana."
)
Here we are flying just to the north of Montreal, Quebec:


Just off our right wing (not in the photos) though a small break in the clouds we were able to spot Mt. Tremblant with its well-known ski resort still partially-covered with snow.
Here's our landing at London, with a long taxi to the Diamond Aircraft factory:
The unusual maneuver on the runway right after touchdown was Fritz demonstrating that that if the ILS Localizer indication was within .5 dot left or right, the aircraft must surely be on the runway — something potentially useful to know for very low visibility landings on very wide runways. My personal preference would be to use a WAAS GPS LPV approach if I really needed that kind of precision.
As seen in the video a surprise awaiting us as we turned onto the taxiway through a wildlife area leading to the Diamond Aircraft factory was first a flock of wild turkeys, followed by a flock of Canada Geese blocking the taxiway. Fritz was forced to slow the aircraft to avoid a "Miracle on the Hudson" goose strike. 
Finally in the landing video you can see our welcoming reception by Diamond employees who opened a large door to the factory just as we arrived. In the rain they were even nice enough to grab the aircraft and push it into the factory before Fritz or I could get out.
After 4000 nm, 3 days, and 28 hours of flying, here's DA42-VI "OE-UDK" — soon to be transformed into "N42DA" — parked safely and securely in the Canadian Diamond factory awaiting additional equipment and new seat installation:

Here's a nice shot of a beautiful VANS RV-3 single-seat homebuilt (about 700 pounds empty with a Lycoming O-320 engine) parked in front of our new plane. It has half the wingspan of a DA42. Bill Scott, one of the flight test pilots at the factory, actually commutes to work in this plane from his home with a 2000-foot grass runway, weather permitting. Very nice!

Finally, I really want to thank pilot Friedrich "Fritz" Lehner for demonstrating how to safely and efficiently ferry a small aircraft across the Atlantic. Definitely the trip of a lifetime for me.