Flight 4: Narsarsuaq, Greenland (BGBW) to Goose Bay, Labrador, Canada (CYYR)
After about an hour on the ground at Narsarsuaq — where the only hot food obtainable for lunch was a microwaved hot dog — it was time to take off for Canada. Our second flight of Day 2 was 679 nm and what should have been about 4 hours of flying. But that was not to be.
In checking the weather forecast maps at Narsarsuaq, we could see that we were going to have some weather issues that would worsen as we got closer to Goose Bay. In particular, while winds early in the flight would be relatively light, they were predicted to increase to at least 50 knots headwind off the coast of Labrador. And at least 2 frontal boundaries near Goose Bay caused a forecast for "severe" icing between 12,000 and 14,000 feet — the altitudes we had been flying. (I'd never before seen an icing symbol on a weather chart with THREE vertical lines intersecting the letter "U".) But even with some headwinds we felt confident we would make it.
Here's the takeoff and departure over the fiords and bare rocks found along the southwestern coast of Greenland. Communications between the aircraft and Narsarsuaq tower (and then back to "Thunderstorm" Greenland approach) can be heard:

Embarrassing note: Both Fritz and I were so distracted by the scenery with our heads outside the cockpit that we forgot to raise the landing gear until immediately after this video recording terminated. Despite operating near max gross weight, the DA42-VI was climbing so well that neither pilot noticed the gear was still down until after the aircraft had climbed to 8000 feet! 
The flight between Greenland and Labrador started to become a chore when we found ourselves halfway over the wide Davis Strait and the winds had already increased to become a direct 50 knot headwind. At that point our G1000′s range ring still showed that we could make Goose Bay with a 45-minute reserve, but if the winds got any stronger we might have to turn back. As a result of the headwinds, we got permission to descend to 10,000 feet and throttled back to extend our range, and it was disheartening to see our groundspeed (water speed?) slow to as little as 113 knots with hours of flying left to go.
Eventually as we crossed the overcast coast of Canada the winds reduced to only about 30 knots on the nose, so we knew we'd make Goose Bay. And the predicted severe icing never materialized. But the expected 4-hour flight took a long 5 hours and 33 minutes.
Our DA42 was not yet equipped with satellite weather (a Garmin GDL69A XM satellite weather receiver). Thus we had no knowledge of localized weather phenomenon except for minimal radio reports. So we were surprised by a storm at the Goose Bay airport that we arrived just as we did:
Note the storm's wall cloud on the left side, normally associated with gust fronts and cumulonimbus. As we flew towards the airport the aircraft's Garmin G1000 was showing us with headwinds of 38 knots at a very low 2000 feet. Yet the airport tower originally reported only minimal surface winds as the storm came through, and our aircraft fortunately experienced only heavy rain and sleet while Fritz made a nice landing.
The storm didn't last long, allowing us to unload all the heavy rafts, immersion suits, and beacons we had been carrying since Wick, Scotland without getting too wet.
Here's the aircraft with its reflection on the wet ramp at Goose Bay: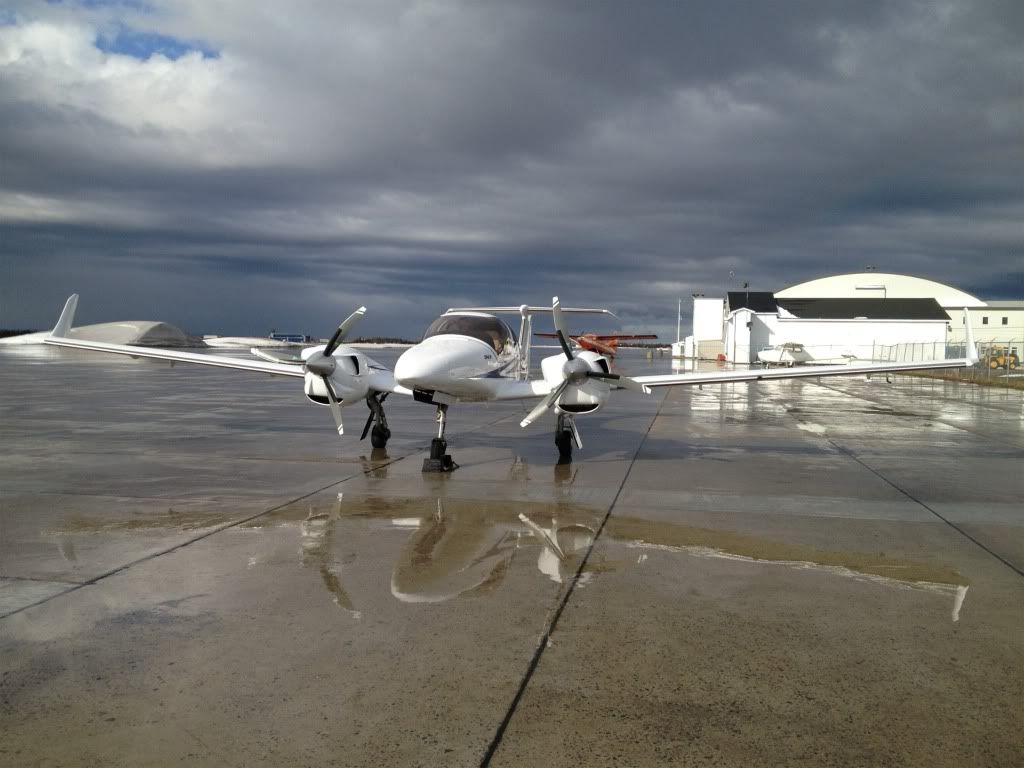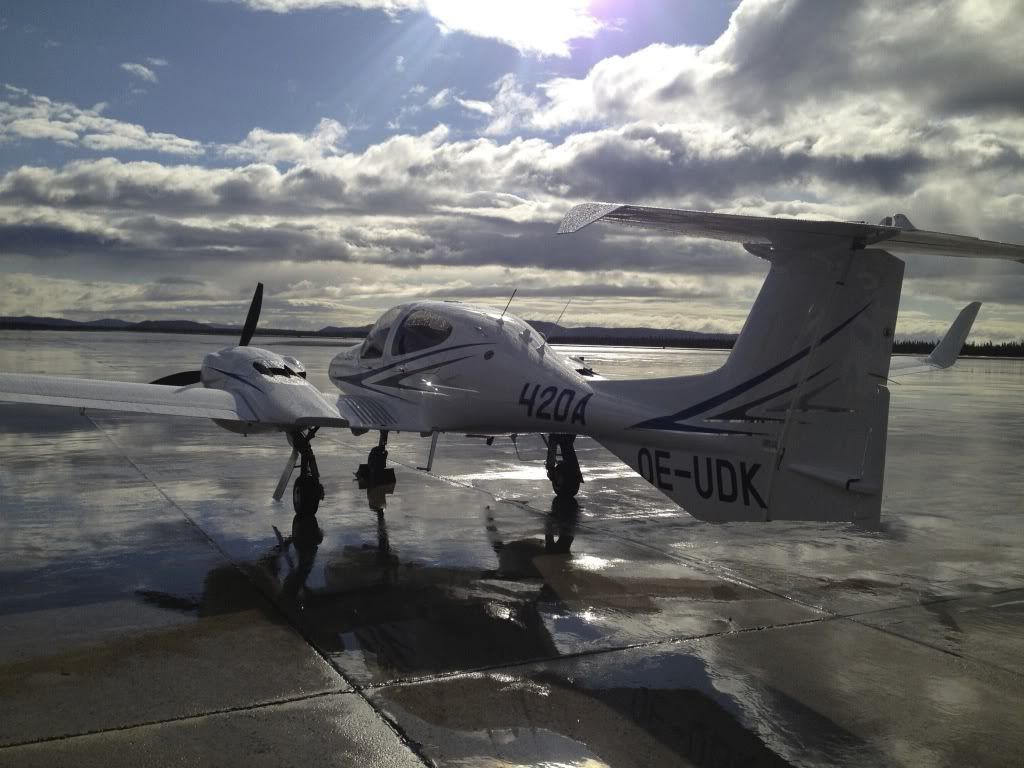 The town at Goose Bay had a feel of a frontier settlement, with mostly big pickup trucks, muddy and heavily potholed roads, and the restaurant for dinner playing country music. I got to explain to Fritz that the Budweiser he had just ordered was made by Anheuser Bush in the US and had absolutely no resemblance to the Budweiser beer he had experienced from the Czech Republic — yup, I was surely back in North America! The hotel we stayed at, simply called "North 1″ was pretty basic, with my hotel room experiencing the loud sound of water from the storm dripping off the roof and hitting the metal of a window air conditioning unit. But they had WiFi with minimal bandwidth to the Internet. 
Tomorrow we fly to the Diamond factory in Canada…but first we had to go through "France."